Long before national hospice-based programs for veterans existed, Hospice Alliance was using meaningful ways of honoring veterans in our care. We continue to present each and every veteran or family with our personalized "Veteran's Honor Bundles" today, and have also expanded our services to veterans to include the nationally renowned "We Honor Veterans" program certified by the Veterans Administration.
Hospice Alliance Veterans Program
For more than 30 years, Hospice Alliance has given special tribute to veterans in our care. The Hospice Alliance team identifies the patient's appropriate era and branch of military service. At the next scheduled visit, the patient is presented with a personalized "Veteran's Honors Bundle".
Our Veteran's Bundle, includes:
A framed certificate personalized with the patient's name and branch of service
An American flag special lapel pin
A red, white and blue lap quilt or crocheted/knitted blanket handcrafted by a Hospice Alliance volunteer or local knitting/quilting group
If we are unable to present the patient with his/her "Veteran's Bundle," the family will receive the commemorative items in their loved one's honor.
We Honor Veterans Program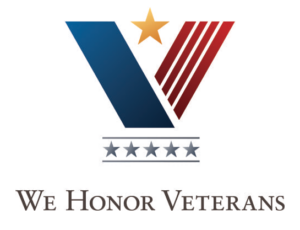 In 2014, Hospice Alliance sought to expand the ways we honor veterans by initiating membership in "We Honor Veterans," a program of the National Hospice and Palliative Care Organization in collaboration with the Department of Veterans Affairs.
We Honor Veterans focuses on respectful inquiry, compassionate listening and grateful acknowledgment. By recognizing the unique needs of America's veterans and their families, Hospice Alliance, in partnership with VA staff, is learning how to better accompany and guide them through their life stories toward a more peaceful ending.
The program includes numerous resources and educational opportunities for the Hospice Alliance staff and the community members we serve.