Why Give to Hospice Alliance?
People just like you choose to give to Hospice Alliance for many of the same reasons that physicians, social workers and other healthcare professionals as well as families, friends, neighbors and community agencies trust us to care for their patients and loved ones: our Mission and Vision.
Click below to see Hospice Alliance's accomplishments, along with a few of our upcoming initiatives that support Hospice Alliance's mission.
Mission
Hospice Alliance is a non-profit, community-based organization dedicated to caring for the terminally ill and empowering those who support them. We strive to provide comfort in order to enhance the quality of life each day.
Vision
As a non-profit hospice provider, Hospice Alliance is committed to:
Compassionate care for people with life-limiting illnesses
Caring support for families and caregivers
Timely education on end-of-life issues in the communities we serve
Values
At Hospice Alliance, we strongly believe in the importance of:
Hope
Compassion
Community
Stewardship
Education
What Makes Us Different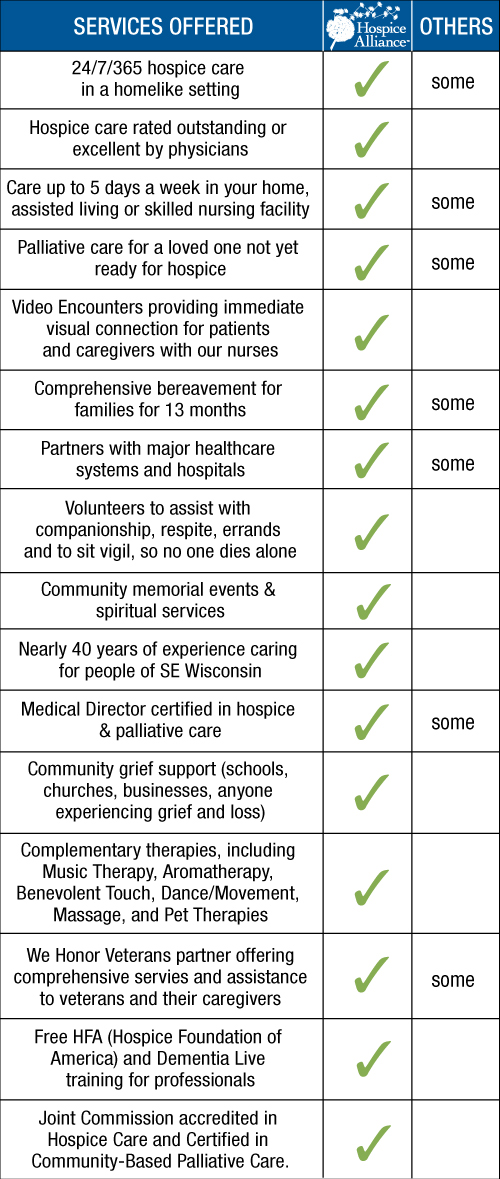 Compare our award-winning hospice care to others:
At Hospice Alliance, compassionate care is not a business, it's our mission. Thanks to the generosity of the communities we serve, our not-for-profit hospice is able to offer services that corporate-owned hospices simply can't or won't.
Where Your Money Goes
Every dollar you give supports the quality of life in immeasurable ways for patients, their families and other loved ones.
The donations we receive make it possible to provide care to all people, regardless of ability to pay.
Sufficient cash reserves ensure the continuity of Hospice Alliance's patient and family services.
All funds are put back into the mission. No patient is ever turned away and complementary therapies are available to add life to days.
Our Hospice House is not profitable; room and board are not covered under Medicare/Medicaid and most private insurers. But it is an important option for people who may not have a safe, dignified place to be cared for in their remaining days.
For more information about our operation: