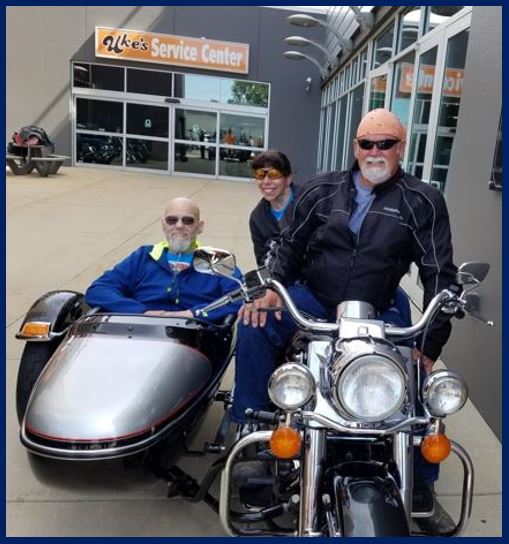 Craig came to us at the beginning of the summer with incurable stomach cancer and a commitment to fill his remaining days with love and laughter.
A Kenosha kid with a passion for dirt bikes, Craig saved up and bought his first Harley – a Heritage Soft Tail, to be exact – before his 21st birthday. During some quiet time with his Hospice Alliance social worker Jo Ann, Craig dreamed of "taking one last ride." Knowing his body no longer had the strength to manage his beloved hog, it was as if he were dreaming an impossible dream.
With time of the essence, Jo Ann devised a plan with Craig's wife and committed caregiver, Christina.  
On a bright sunshiny day in July, Christina shared the news, "Daddy Doo (his nickname for longer than anyone can remember), I've got a surprise for you! We're going to do it. We're going for a ride."  
He apologized sadly that he just couldn't do it. He was too weak, too sick to ride his bike. And he certainly couldn't safely have her as his passenger. But, she explained, "You don't understand. We ARE going for a ride. It's going to happen."
The very next morning, whether it was sheer willpower, divine intervention or simply luck, the awful symptoms cleared enough for Craig to take the quick car ride to Uke's Harley-Davidson. Friends, family and a host of generous riders –
many he'd never met – waited to join Daddy Doo for his last ride.
With a smile wider than the sidecar in which he rode and a driver just as passionate about living each day to the fullest, together they made their loop through Wisconsin farmland, fulfilling Craig's impossible dream.

Your generosity enables Hospice Alliance to provide exceptional care for patients during their most difficult time of life – and to continue caring for families during the challenging days that follow their losses.
 If you would like to give to Hospice Alliance… DONATE NOW